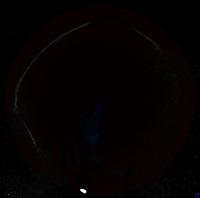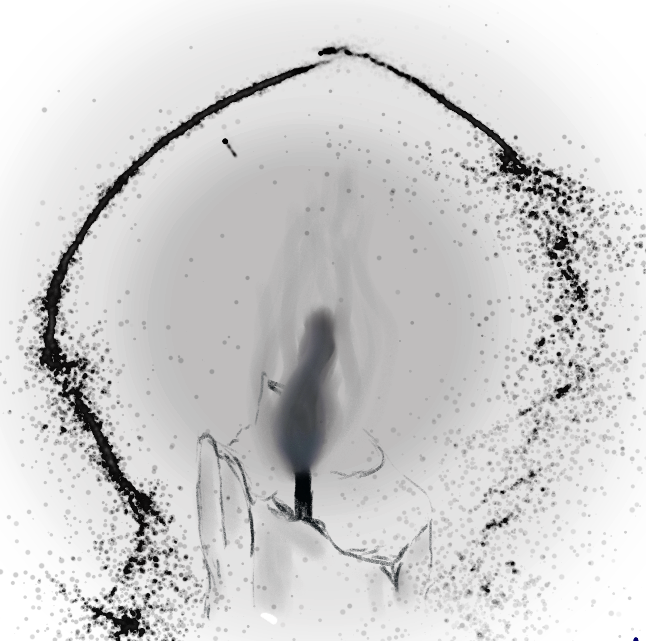 Come sister Sparrow come Brother wolf
Warrens widdershins ways and woes
Summer squalls, winters rose
Now a tale every midwife knows
Listen close Ash and Oak
Nekkid toes, crooked noes
Hallow fallow, butter brine
How mother Rabbit stole time
Prelude: A hand raised
The Kingkiller Chronicle's journey is powerful, it moves the heart. Its best if you experience it yourself, rather then me rob you of the joy. Journey before destination, and all that.
So I suggest you read around a lot before tackling this. I'm not suggesting I have the right of things. Rather I'm saying it's a lot more fun to arrive at your own conclusions before hearing others. So capital S Spoilers and possible BS ahead, you decided which.
In short, this theory will cover Auri's candle making. In long....
A Humerus Chandelier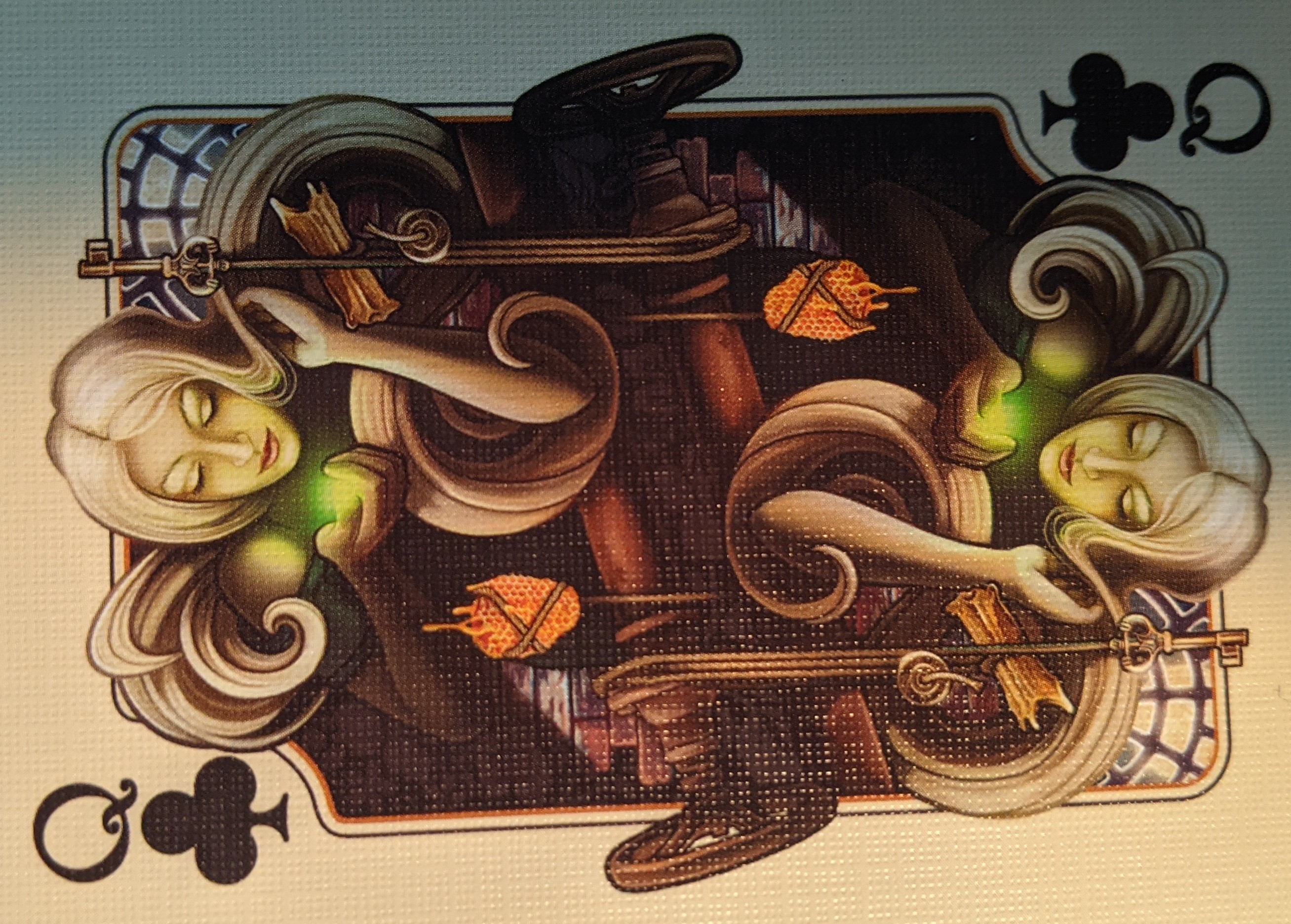 The main theory is that the Arm bone and Cyrstal that Auri finds in the Underthing are related to Lanre and Selitos respectively.
Four points of clarification:
I say simply related because it's unclear how, and for the purposes of the bulk of this theory, the concern is to prove how alike they are through story and metaphor. Will leave it to the very ending to speculate on what it means.

This theory's strength comes not from one strong connection. But from several weak ones. Like a spiders web, the trap isn't ready tell it's fully woven.

I'll be carving out non essential details in order to make this concise. I expect readers to have combed the books many times and hopefully will do so here to help support or refute these claims. You should defiantly read around the quotes I pull.

the relationships starting point is this:
---
| Who | What |
| --- | --- |
| Lanre | Arm Bone |
| Selitos | Crystal |
---
As a starting point, the repeated use of a single body part where typically it's counter would be involved forms a pattern. There are two instances of this very close together in the narrative. The more unusual of the two repeats itself when Lanre is described as having "strength of arm" rather then "strength of arms" NOWT:26:184:
... Lanre had the strength of his arm and the command of loyal men...
NOWT:26:187:
... his (Lanre) power lay in the strength of his arm.
The second instance is also unusual, but also directly part of the plotline. And so receives an understandable amount of attention.
NOWT:26:190:
Selitos drew a deep breath. "By my eye I was deceived, never again...." He raised the stone and drove its needle point into his own eye.
NOTW:28:197:
Selitos One-Eye stood forward and said, "Lord, if I do thi....
From here we are going to follow these items separately for a bit tell they come back together, in different forms at the end.
Breaking Bones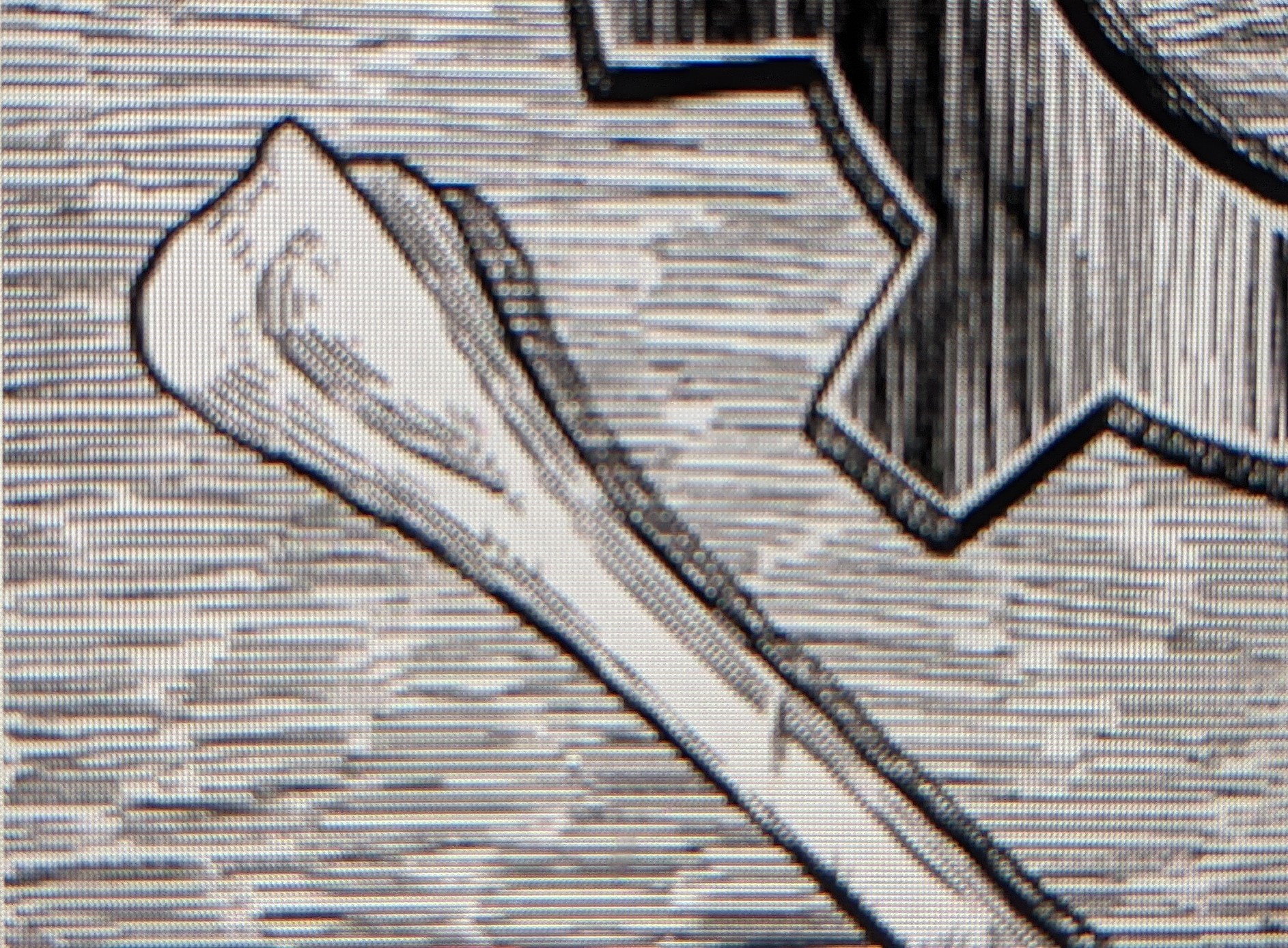 In Slow Regard of Silent Things (SROST), Auri finds a bone. SROST:1:24:
she had found: a clean white bone. Long, but not a leg. An arm. The prima axial. She ran her fingers down the length of it and felt a tiny seam that ran all round it like a ring, showing it had broken and long-healed. It was full of pleasant shadows.
Let us say how this "Prima Axial" is like Lanre:
The word axial is similar to Alaxel, who the Adem's song tells us is the lord of the Seven.
prima means "leading man" which Lanre certainly is.
"axial" isn't the name for any arm bone, but rather a collection of the middle parts of the body, as shown here. Auri, who studied at the university, would know this. Her naming is deliberate. She says arm because he was known for his strength of arm.
The arm being broken and healed is to the Lanre being killed and raised
The arm being full of shadows is like Lanre being surrounded by shadows.
In Vintish culture, a bone ring (see "tiny seam" from quote), indicates a profound and lasting debt, which Lanre has for his life returned.
After retrieving the bone, Auri puts it near holly at some point. SROST:1:24:
The bone nestled almost indecently close to the holly berry.
Holly is a topic all on it's own and so deserves some consideration.
Holly
I believe holly berry is a metaphor for creation. The Lady/Lyra uses it to bring back Lanre in the form of Old Holly the warrior. For further exploration, consult this post, though it wasn't written with this in mind.
Holly is what the Sithe wear when they ride out hunting skin dancers, so we presume it has some protective powers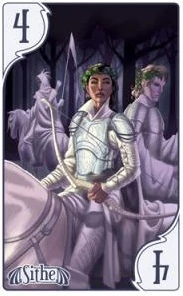 Bast tells us the Sithe guard the Cthaeh, and treat anyone who comes in contact with it like a disease they need to burn out of this world. Kvothe casual walked up to it however, so something is amiss.I like to think they allowed it. Furthermore and that they are shooting down the butterflies. Butterflies pollinate, which help plants reproduce, by moving the male bits to the female bits on another plant. So is kvothe a pollinature of another sort? Felurian doesn't think he is bitten, but she doesn't look to hard. And she is a bit of a twilight flower, if you will excuse the expression, herself.
Holly is also features predominantly in How Old Holly came to be OH:
Old Holly bent his boughs again, and brought a spear, its wood of living green. Its blade as bright as berry blood. This he drove into...
And has implications for our tired Inn Keeper. WMF:2:423
The innkeeper 's fingers fumbled clumsily, snapping the holly branch and jabbing a thorn deep into the fleshy part of his thumb. The red-haired man didn't flinch or curse, just scowled angrily down at his hand as a bead of blood welled up, bright as a berry.
Will say more about holly later, but for now lets move Auri's journey forward as she visits a graveyard.
Bones and Berries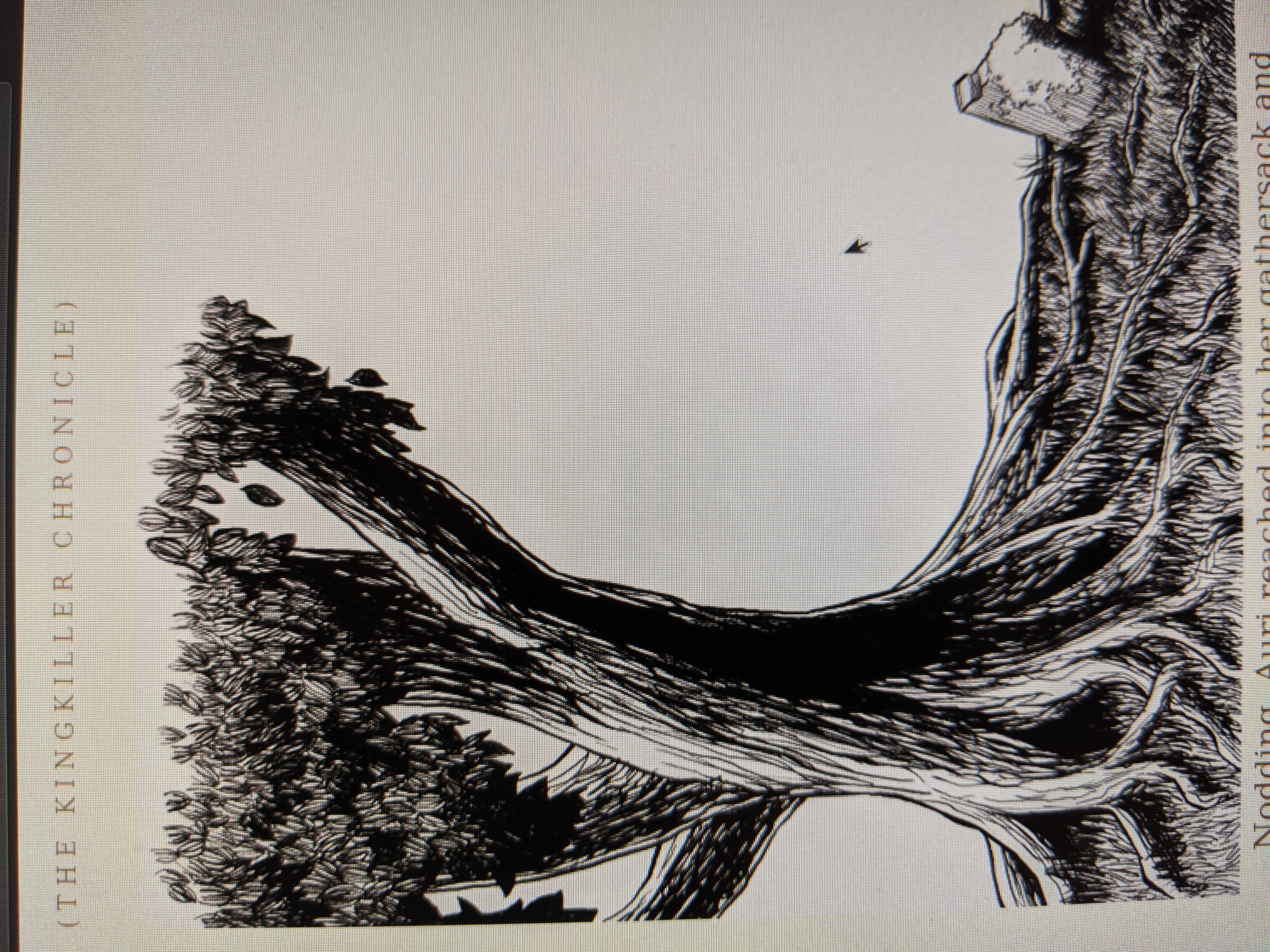 There she puts, I would argue trades, the bone for Laurel Fruit, by placing the Bone inside the Laurel Tree. SROST:4:70:
Auri reached into her gathersack and brought out the bone that she had found the day before. She bent down and tucked it deep inside the dark and hollow space beneath the tree.
Then she began to pick the small blue laurel fruit and put them in her gathersack as well.
I dive into if this could be the sword tree or the Cthaeh's tree here. But ill summarize:
Auri described the Tree as lonely, which suits the Cthaeh very well. WMF:104:685:
And as I ran I could hear Cthaeh speaking behind me. Its dry, quiet voice followed me longer than I would have thought possible. "Come back. Come back. I've more to say. I've so much more to tell you, won't you stay?"
The Cthaeh's dead butterfly's are like a graveyard.
At a long stretch, I think Kvothe will lay waste to Hearth trying to get to Cinder who I believe he will find there, thus making it a graveyard. So then the Adems stone houses as analogous to gravestones in two ways, which only work based on a theory I haven't substantiated.
Only English/Cherry Laurel's have dark blue fruit in reality. That isn't the tree featured in the book. It's possible someone: Pat or Auri is confused. It's possible Auri was picking up the berries from the Ivy, which might make it a Hedra Helix, which is a type of Ivy. The name of which is lose to Haliax. But word similarity is a too thin to base an idea on alone
The Sword Tree fits Lanre better, who was known for his sword prowess.
Both Felurian and the Adem have Ivy and Oak in their art, The Laurel tree with blue fruit isn't an oak, But there is a tree known as Laurel Oak that is hard to tell apart from an oak.
Kovthe, when he won his talent pipes singing "The Lay of Sir Savien Traliard" compares Saviens voice to a "rock-old oak".
NOTW:44:
And we sang! Her voice like burning silver, my voice an echoing answer. Savien sang solid, powerful lines, like branches of a rock-old oak, all the while Aloine was like a nightingale, moving in darting circles around the proud limbs of it.
Except, it's him singing. So we might say kvothe considers himself an Oak.
Auri has ivory skin and Cinder has Ivory teeth, which might indicate an addition of some sort. The obvious guess is Denner Resin, But i wonder if it isn't Trillium, which kvothe calls Denna, which Felurian eats. aka birthroot: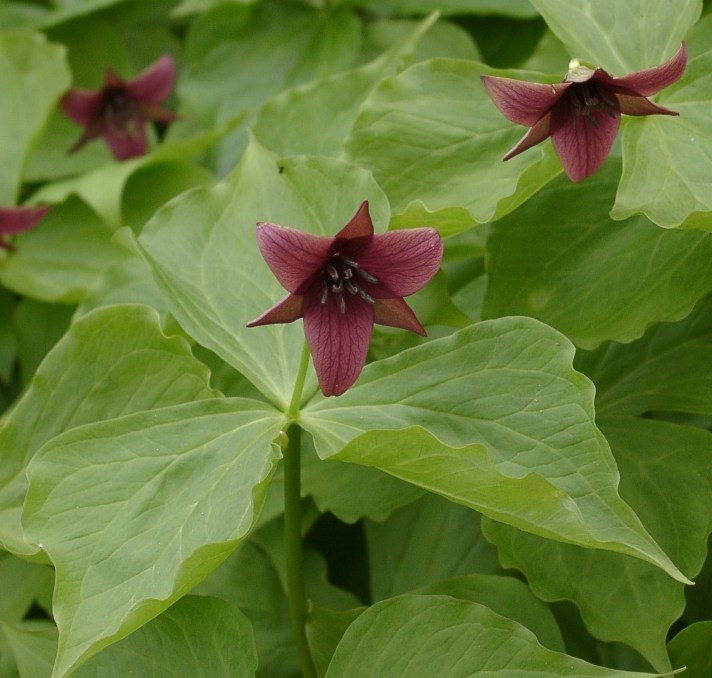 For me, If it has to be one of the two prime tree's, the Latantha is closer. However, graveyard and lonely make it nearly a tie. In the end, i suspect waves hands the tree's roots are linked. A theory I hope to cover any day now.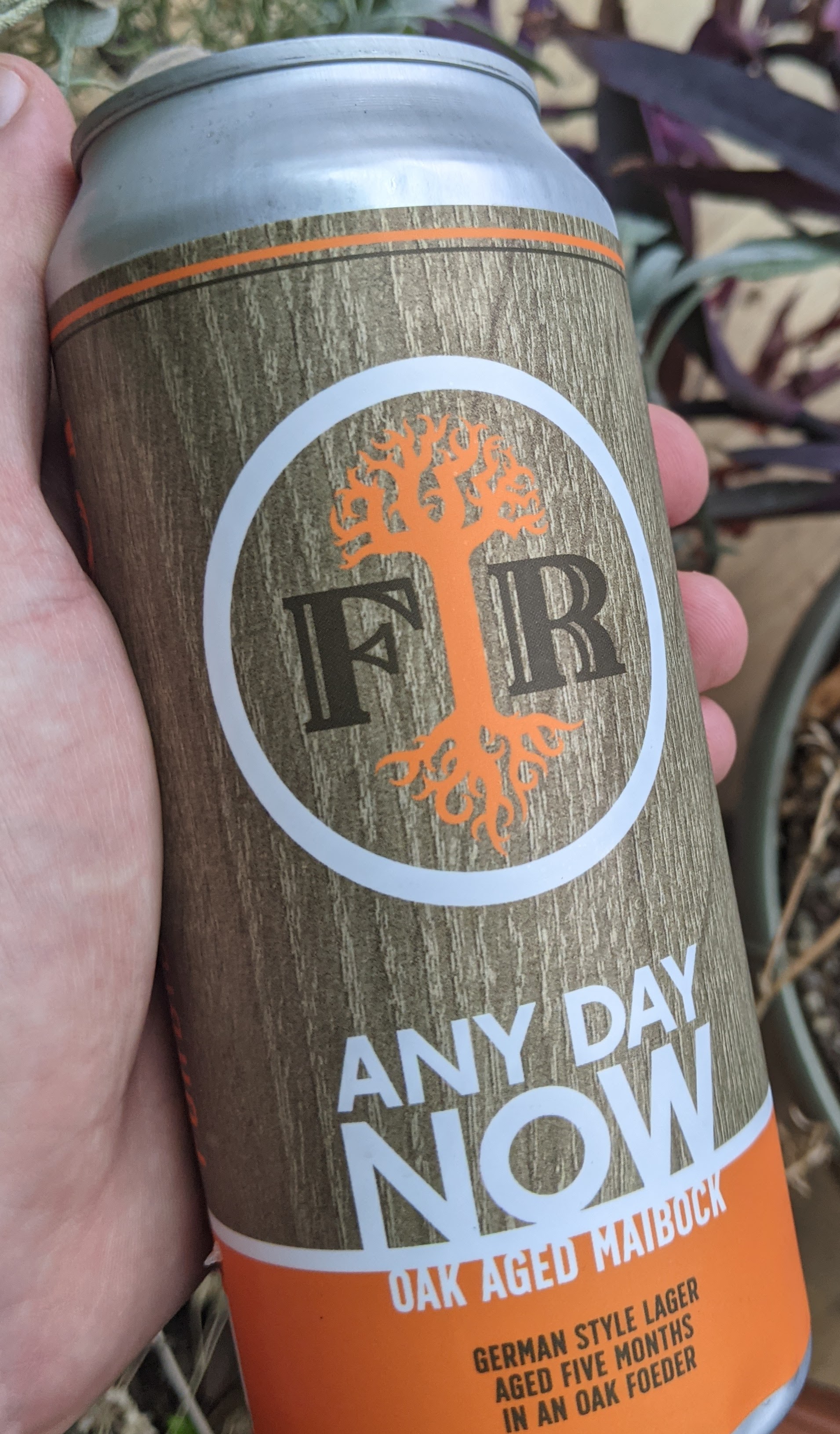 But let's have a taste shall we?
Celtic Mythology paints a picture of two who are one, but at war, warring with against each other, warring with themselves. The Oak and Holly. During Midsummer the Oak King is at the height of strength, the Holly king regains power at the Autumn equinox, his power peaking at midwinter, at which point the oak king is reborn.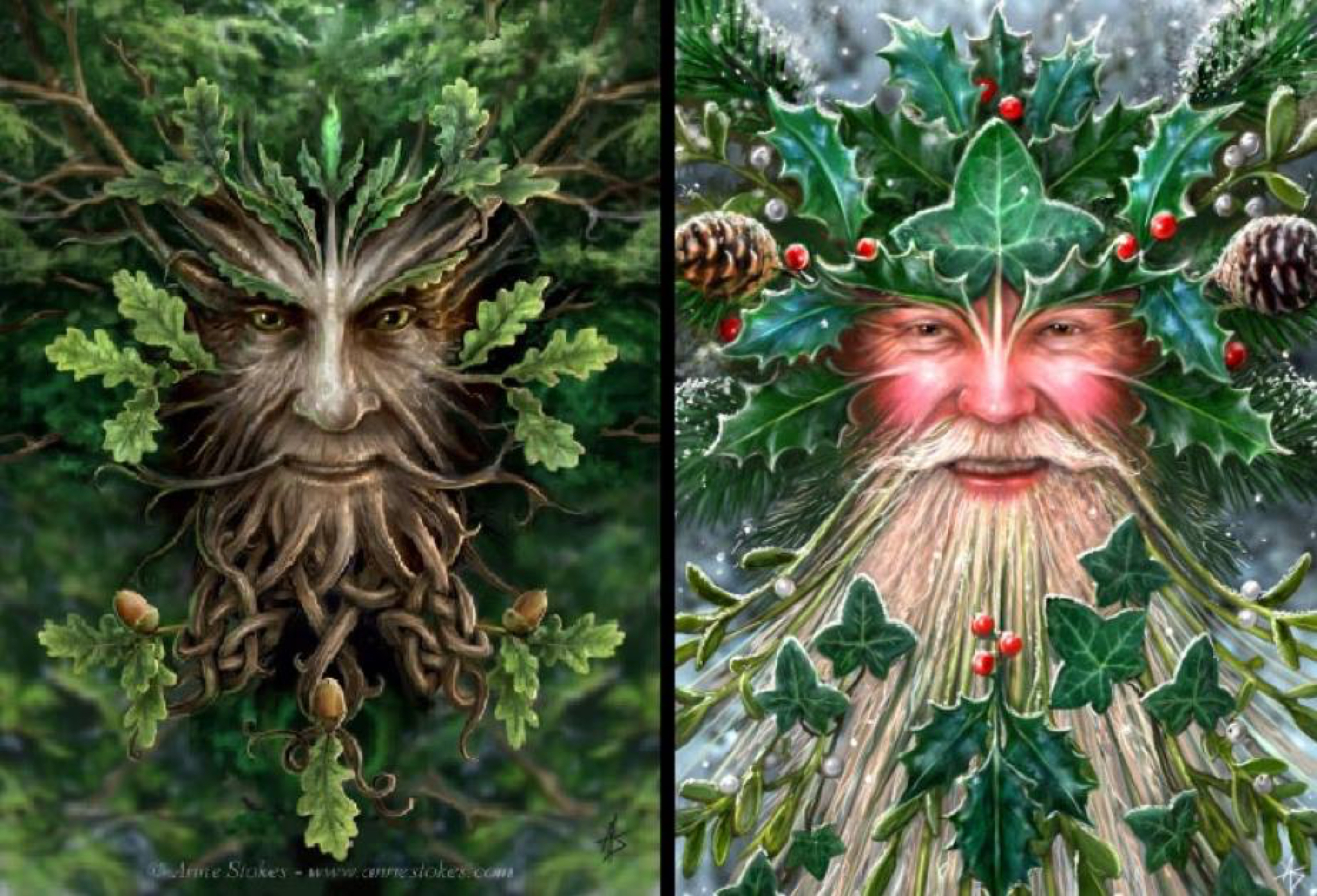 Guess who else dabbles in duality's?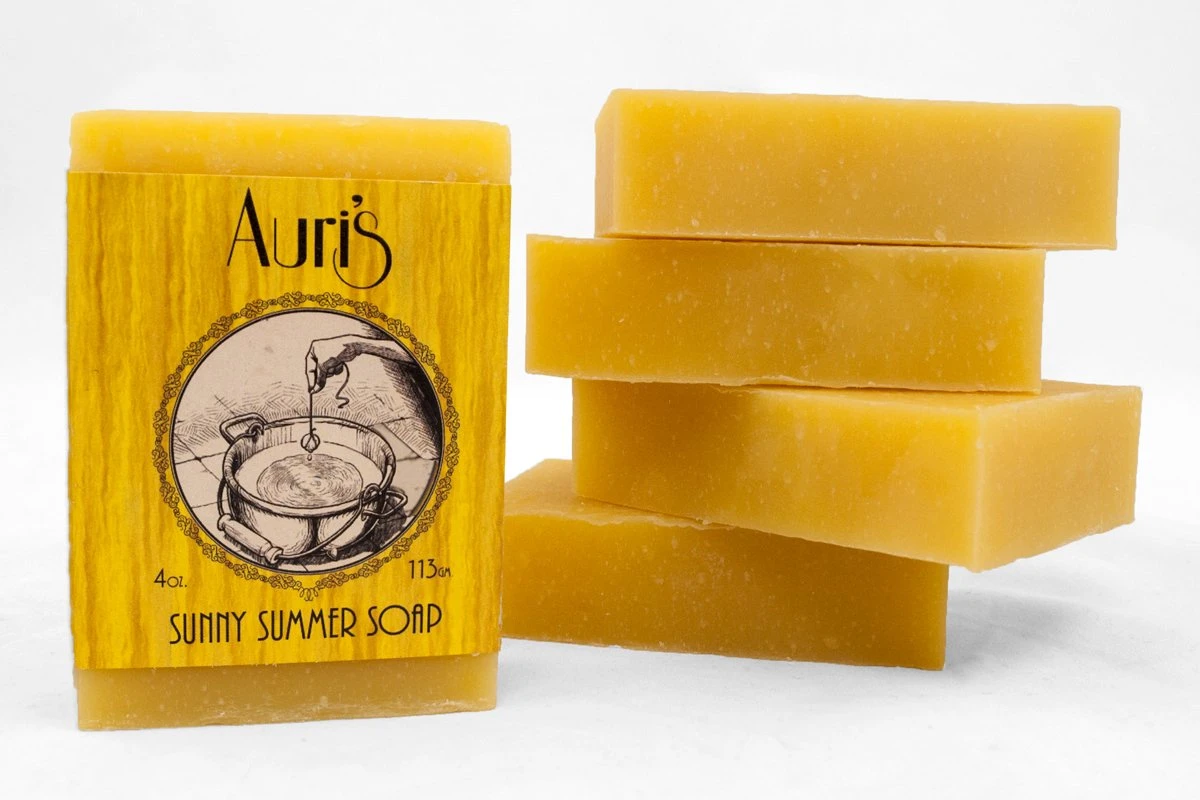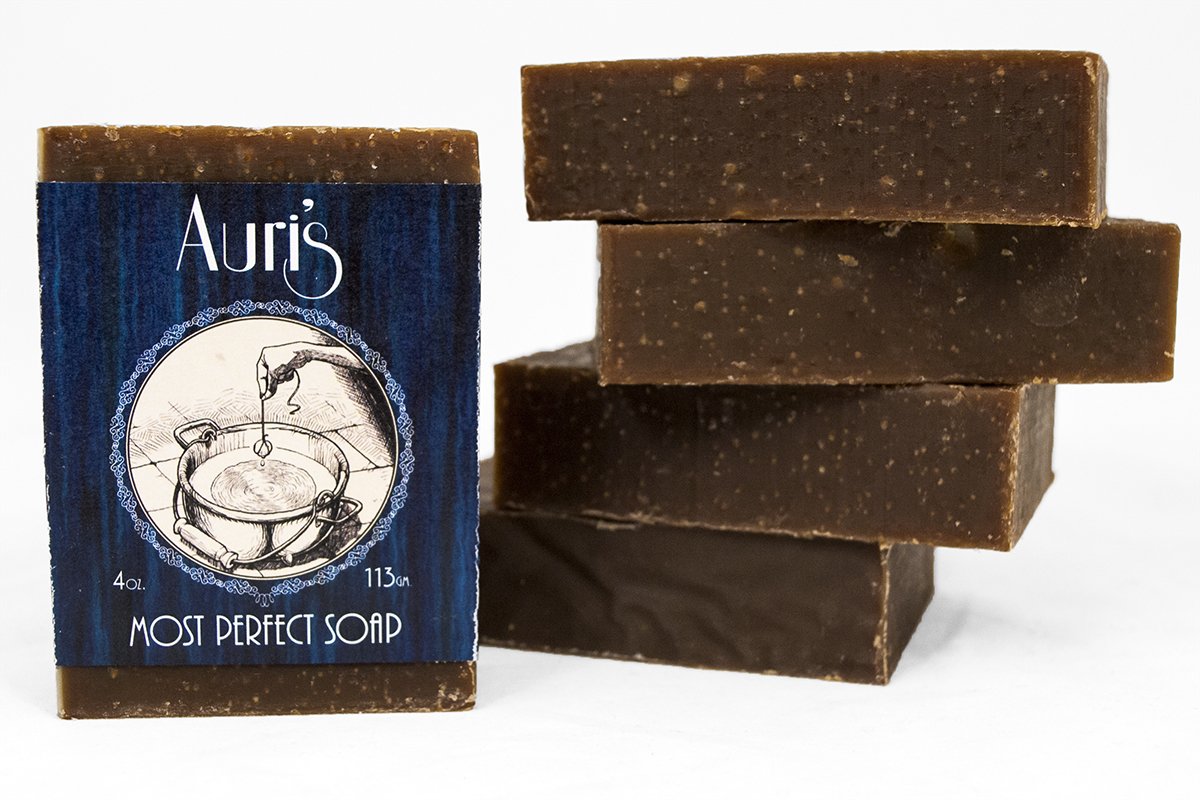 Later, you might want to read u/quoo's master piece theory on Auri's soap,
I'm not suggesting that Celtic Mythology plays a role here, The Four Corners has it's own lore. For one It's Ivy climbing Oak, Holly isn't an Ivy.
I'm just i'm highlighting that such devices are part of our blood, our very creation, a topic I tried to capture in story and art. Here is a sample of some of roaring heart wilting poetry i spin into being:

Farms, Hawks and rabbits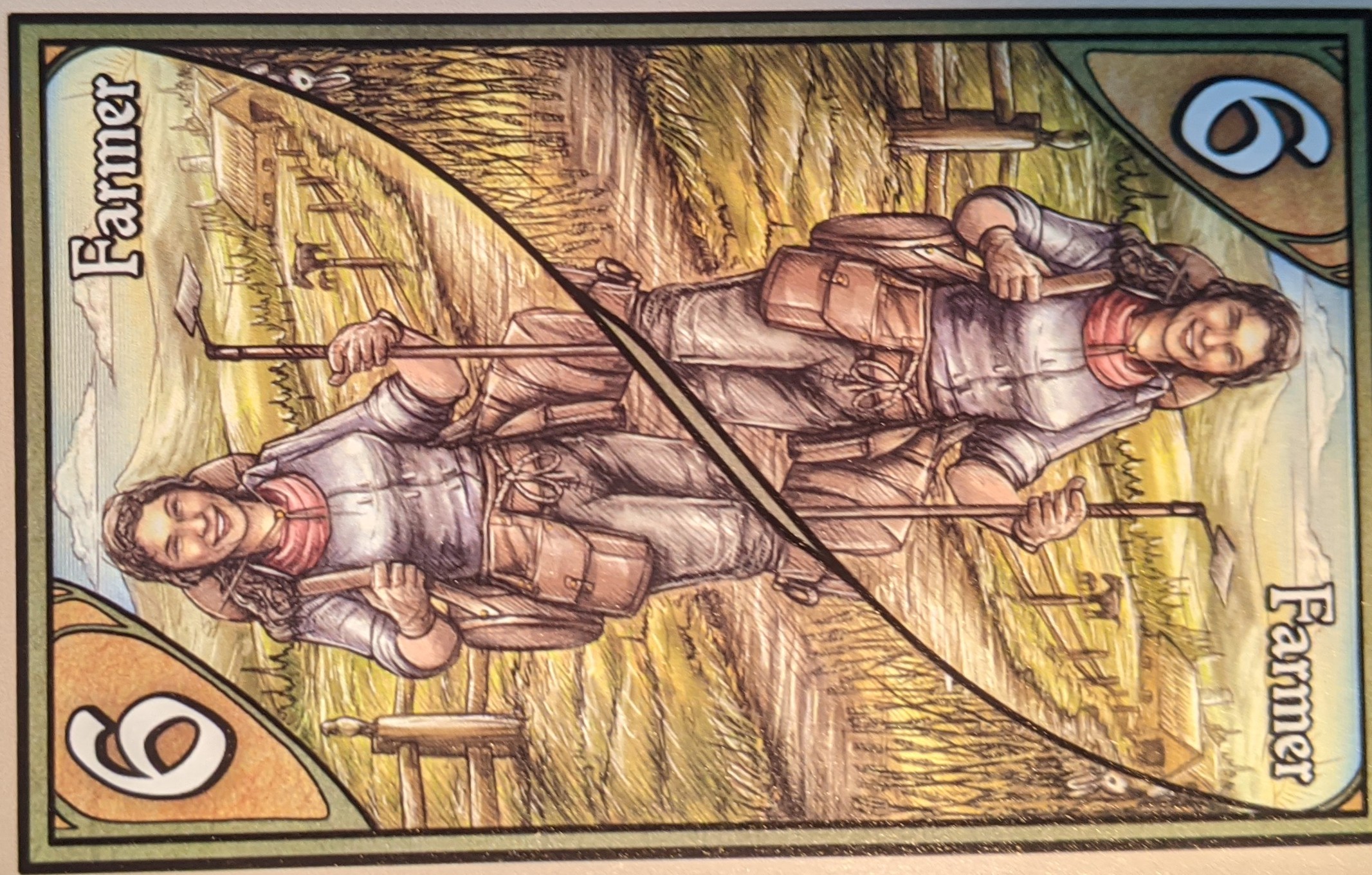 Coming back to the main theory, The Mauthen farm has some strong similarities as well:
The Barrows are a grave/bone yard, the pig farmer mentions the Mathen's dug up bones.
The Oak trees at the farm could be responsible for
Auri finds pine cones in the area, The Farm has pine trees which could leave them.
The Farm is said to have a "stone outcropping", which might be gravestones auri sees.
They both have mushrooms.
The leaf Auri breaths on could be the one Kvothe swallows.
The graveyard Ivy could be how The Denner Tree's near the farm make addicts teeth white.
The Iron fense from the graveyard could be the Iron Wheel in Town near the farm
Verinan, who kvothe compares to a Verinan red flower, could be the graveyard rose.
So if this is the Mauthen farm whats the lesson? Is the Laurel Tree the barrow itself? What does it mean for the story?
This is the end of the arm bone's story, though it contains through the Laurel Fruit which will pick up later.
Crystal's and Blood
---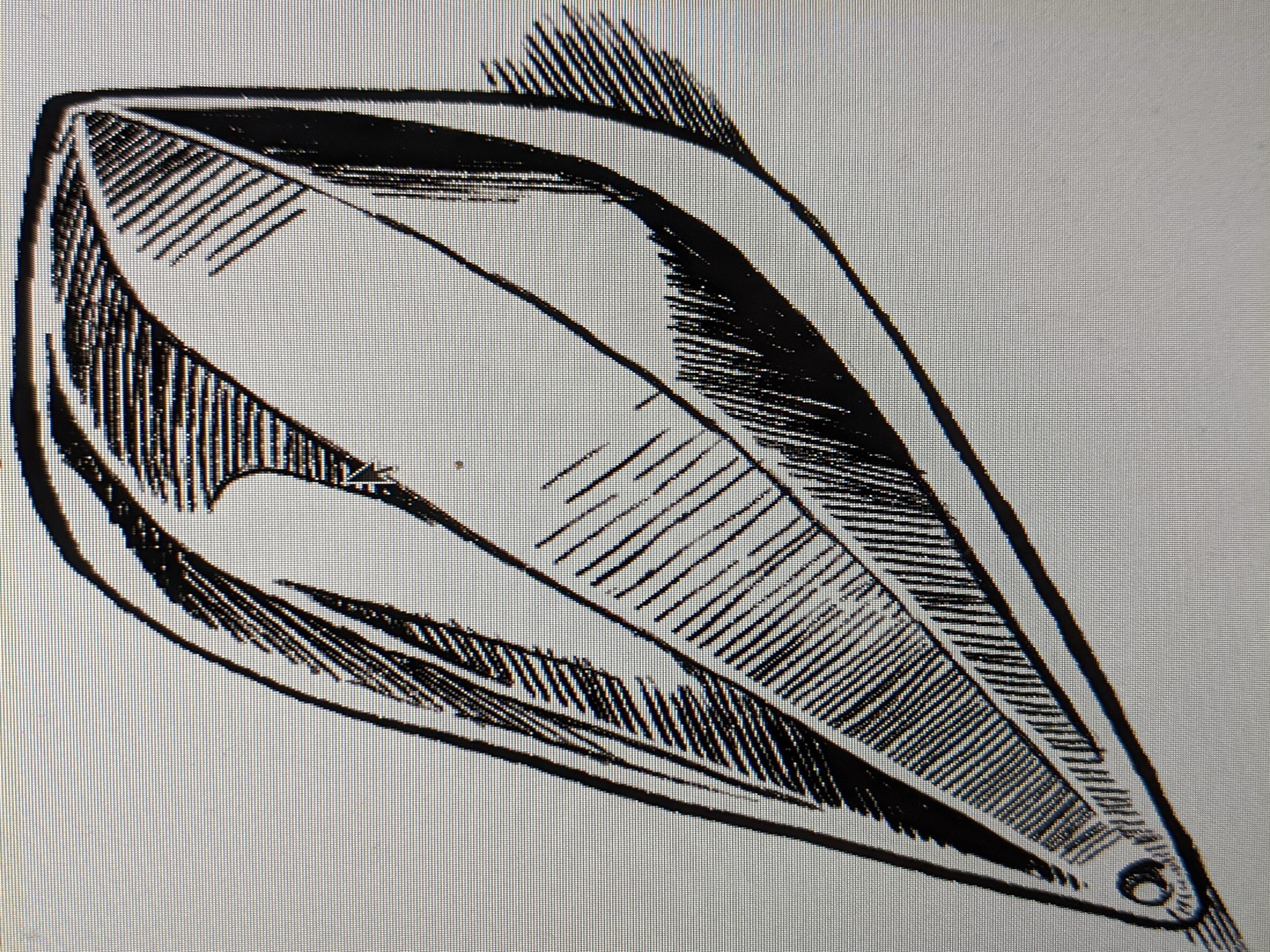 Auri finds a Crystal in the Underthing. SROST:1:27:
After a dozen steps, a glimmer on the marble floor caught her eye. Skipping close, she saw a crystal had fallen from the chandelier to lay unbroken on the floor. It was a lucky thing, and brave.
The Crystal is like the mountain glass seltios used to stab his eye. The connection is thin here, only that Crystal is similar to glass. What do we know about "mountain glass"? However, the connection is immediately strengthened as The Crystal is put near an Amyr, given Selitos was their founder.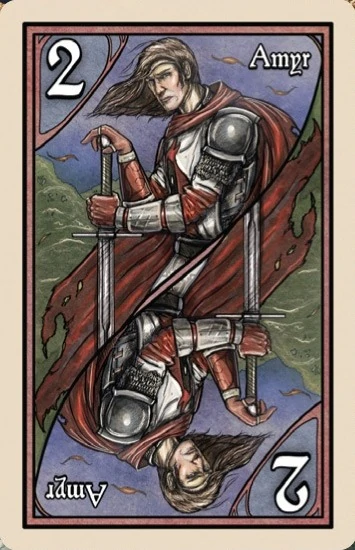 Here are the relevant parts about the Amyr doll. SROST:1:28
It was a tiny figurine carved from a piece of pale, retiring stone. A small soldier with clever lines to show his hauberk and his shield. But his truest treasure was the sweetness of his face, kind enough for kissing. It didn't belong here, but it wasn't wrong. Or rather, it wasn't what was wrong with the room. The poor thing was simply lost. Auri smiled and put the doll in her pocket with the crystal
Later we learn more. SROST:10:146:
the design upon its shield. It was so faint. But yes. There was the tower wrapped up in a tongue of flame. No mere soldier, it was a small stone Amyr. Peering closer, Auri spied slight lines upon his arms as well. She did not know how she had missed these things before. It was a tiny Ciridae.
Notice, Auri, like kvothe has to look at the amyr twice before seeing it. It would be odd if seeing had a certain calculus to it. Given Puppet suggests you can look too much. Which given the strong, likelihood he is connected/is Selito's complicates matters even further. I had long wondered if Kvothe's first viewing hadn't been more true, but I doubtful Auri could be deceived by anyone but herself.
Later Auri adds white tatted lace to the same pocket as the Amyr and Crystal. SROST:1:32
she found a length of fine white tatted lace. She folded this up carefully and put it in her pocket with the crystal and the small stone soldier
The white tatted lace is likely related to Nettie William, Rike's mom. A connection which, will I'll explain shortly.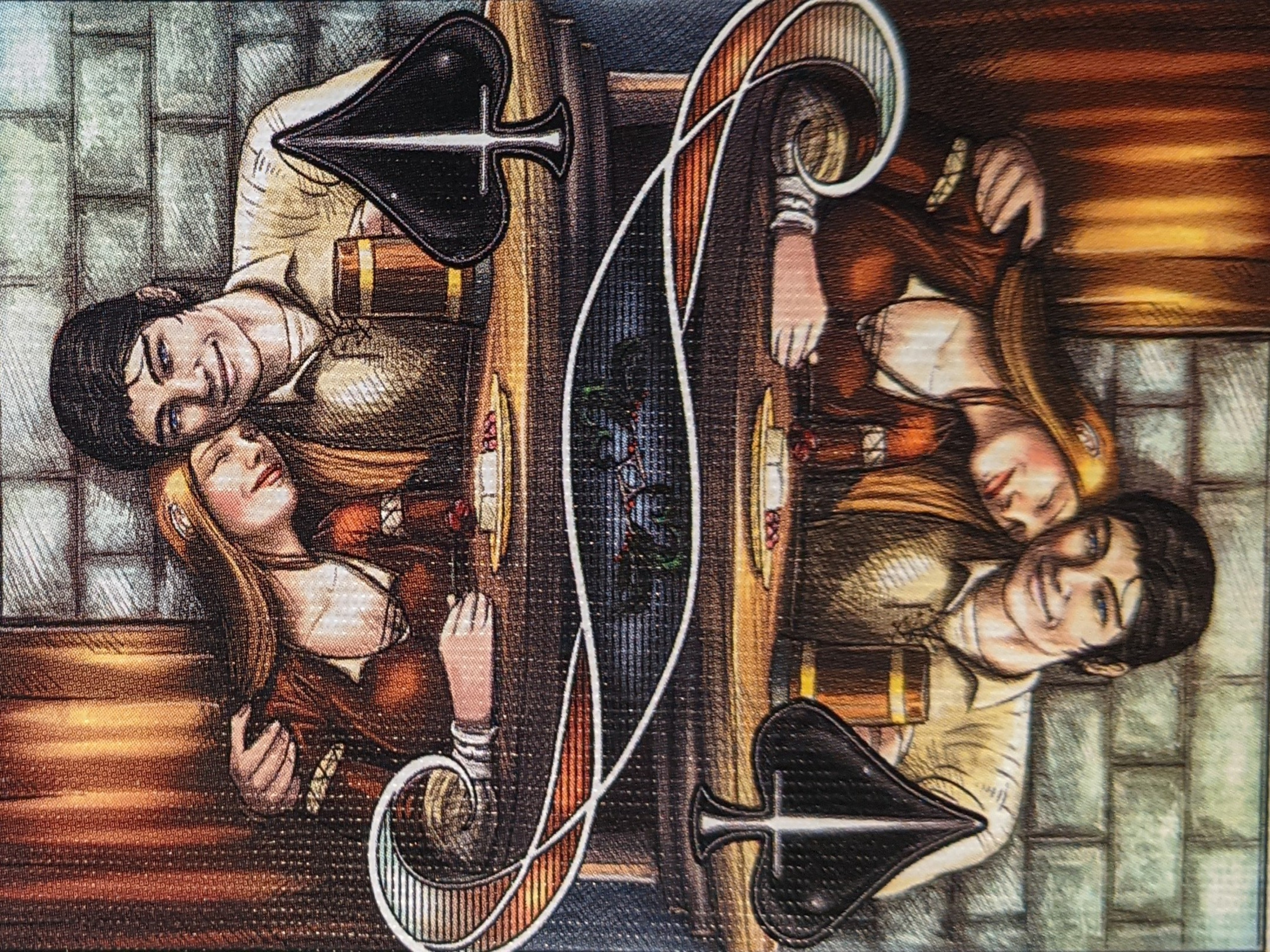 Finally, Auri trades the Crystal for butter & honeycomb, when she leaves the Crystal under the Lighting Tree near Rike's house.
Relationships between the Farm Auri's visits (SROST) and the Williams Farm (TLT):
The girl that see's Auri with her serious eye's is Nettie's daughter Tess.
The same dog bay's at Auri and Bast
Nettie has a trio of Goat's, Auri meets one.
The honey that Auri takes is from Nettie, who has bee hives and also used it for candles.
The etymology of Nettie is Net - tie, where net's are like tatted lace.
The farmhouse auri visits has a bearskin upon a rack to cure and Rikes father Jessom hunts and traps.
This isn't the Cthaeh, so near a farm with milk and honey. This could possible be the Sword Tree, but while the butter has knifes. Their are no mountains to see.
So then, The Lighting Tree.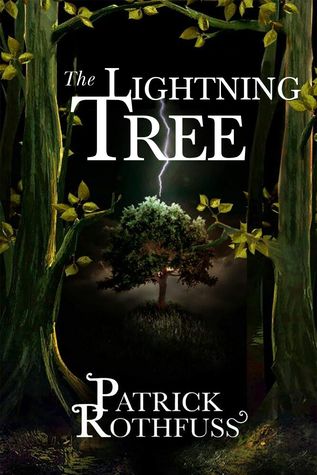 ---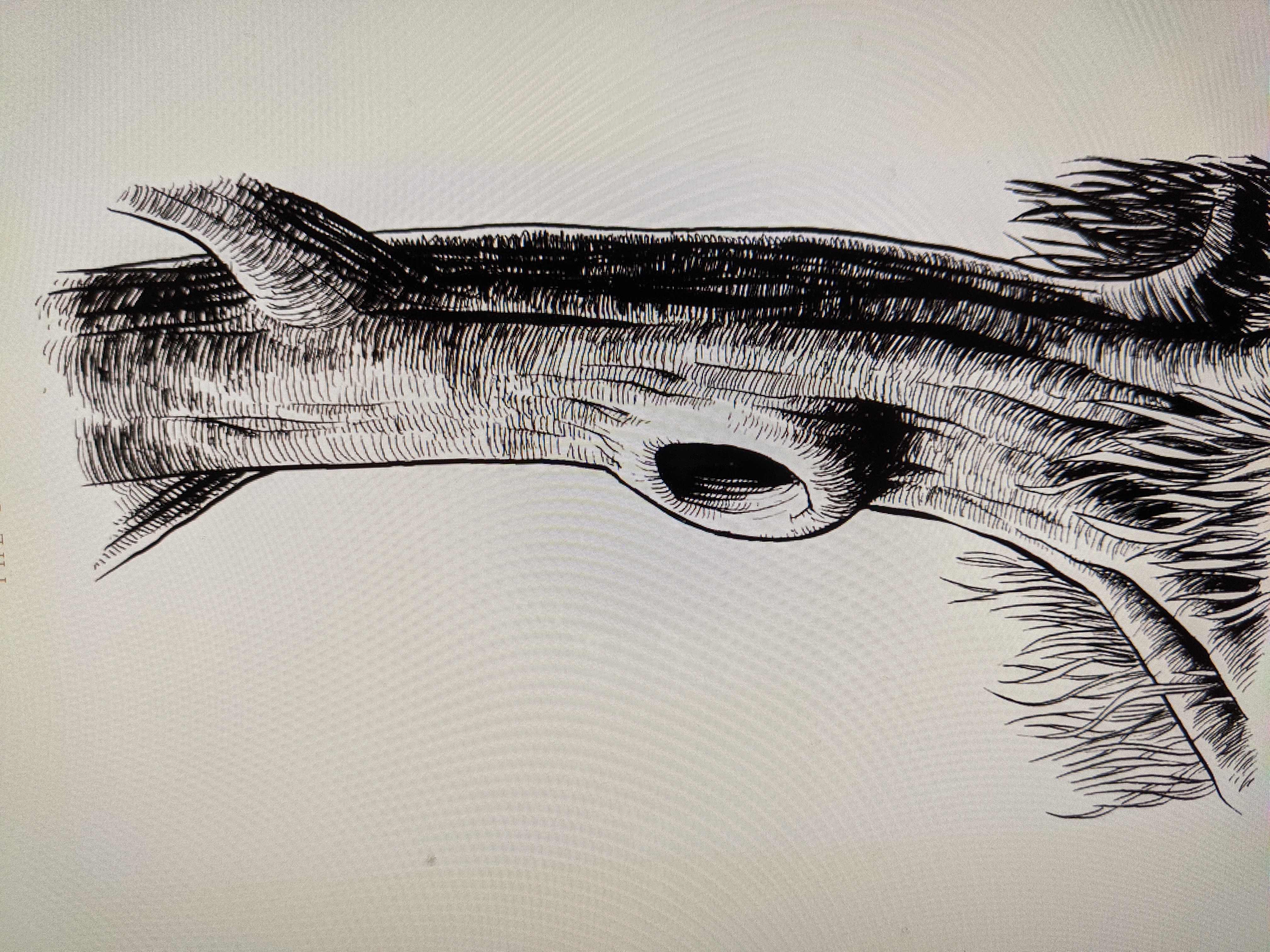 That being established, we must review the trade Auri makes for the honey. This happens in three parts:
Auri trades for the Nettie's butter & honeycomb for her White Tatted Lace.
She is spotted by Tess, this increases the cost of the trade.
She leaves the cyrstal in the tree to pay the extra debt
---
SROST:4:
trade.
Carefully she brought out the length of fine white tatted lace. She folded it and left it near the churn. It was the careful work of many long and drowsy autumn days. It would find purpose in a place like this. Then Auri took the clean white cloth that had held the hollyberry earlier and rubbed it with some butter.
Sense she only takes a bit of butter, lets just round this down to honeycomb.

spotted.
a prickle on her neck told her that she was being watched... A little girl was watching her
debt paid
She cast her eyes around and saw a tree, a dark hole in its trunk ...
The hole was perfect, just deep enough so that a little girl could reach inside and feel around. If she were curious, that is. If she were brave enough to stick her arm in nearly to her shoulder.
Auri pulled the crystal from her pocket. She kissed it, brave explorer that it was, and lucky too. It was the perfect thing. This was the perfect place. True, she was no longer in the Underthing. But even so, this was so true it could not be denied. She wrapped the crystal in a leaf and lay it in the bottom of the hole.
Does she mean for the girl to fall down the rabbit hole and go on mad fun adventures? Or is this a bobble, a bait, a way to float her down into the darkness.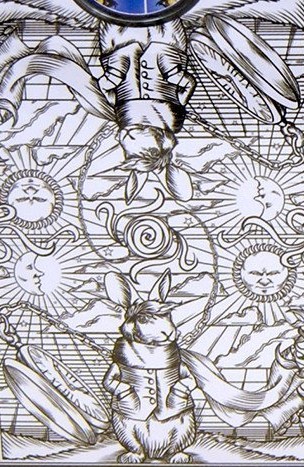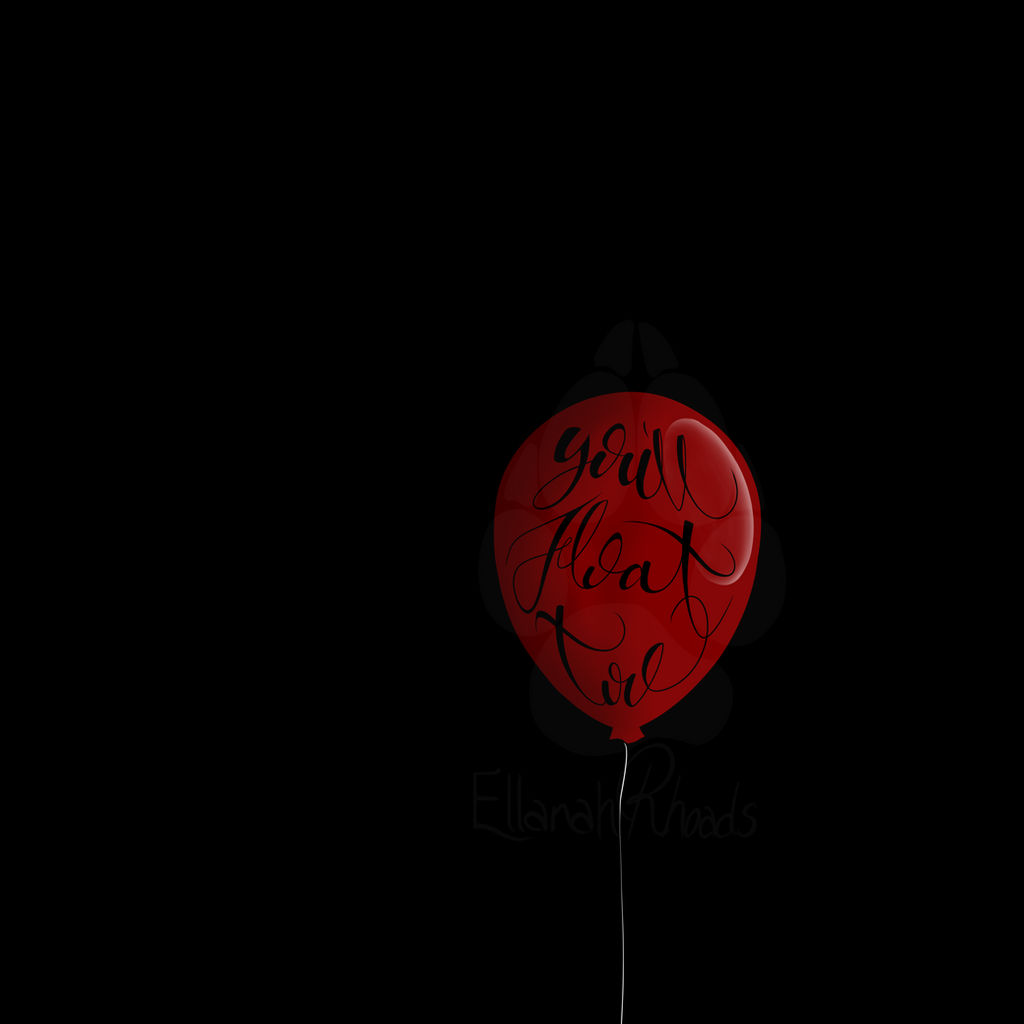 Finally, What use does our white tatted lace find? TLT:
"I learned loads of things today, Reshi," Bast protested. The innkeeper sat up, looking more attentive. "Really?" he said. "Impress me then." Bast thought for a moment. "Nettie Williams found a wild hive of bees today," he said. "And she managed to catch the queen …"
This is the end of the journey for the cyrstal, the begging of the honeycombs.
Interlude: tables
| Who | What | Near | Trade | Where |
| --- | --- | --- | --- | --- |
| Lanre | Arm Bone | Holly Berry | Laurel Fruit | Barrow, Sword, Cthaeh? |
| Selitos | Crystal | amyr & lace | HoneyComb & lace | Lighting Tree |
---
The Light's Boundary
Auri use's the honeycomb and laurel fruit to make a candle for kvothe. Much could be said, here. Without elaborating, the ingredients are:
laurel fruit
honey
perfect lavender
melting wax
daub of perfect pitch
auri breath in whistle
Note, If the leaf kvothe swallowed on the Mauthen farm was the one Auri breathed on, then her whistle is the second reference to her breath going in him.
Auri find's that in the end she doesn't have time for the proper making of the candle, as too often is the case, when she is pressed upon time, she turns to Boundry, she goes beyond...
SROST:10:142:
The other piece? That slender tenth part of a tenth? The heart of alchemy was something Auri had learned long ago. She'd studied it before she came to understand the true shape of the world. Before she knew the key to being small. Oh yes. She'd learned her craft. She knew its hidden roads and secrets. All the subtle, sweet, and coaxing ways that made one skilled within the art. So many different ways. Some folk inscribed, described. There were symbols. Signifiers. Byne and binding. Formulae. Machineries of maths . . . But now she knew much more than that. So much of what she'd thought was truth before was merely tricks. No more than clever ways of speaking to the world. They were a bargaining. A plea. A call. A cry. But underneath, there was a secret deep within the hidden heart of things. Mandrag never told her that. She did not think he knew. Auri found that secret for herself. She knew the true shape of the world. All else was shadow and the sound of distant drums. Auri nodded to herself. Her tiny face was grave. She scooped the waxy fineground fruit into a sieve and set the sieve atop a gather jar. She closed her eyes. She drew her shoulders back. She took a slow and steady breath. There was a tension in the air. A weight. A wait. There was no wind. She did not speak. The world grew stretched and tight. Auri drew a breath and opened up her eyes. Auri was urchin small. Her tiny feet upon the stone were bare. Auri stood, and in the circle of her golden hair she grinned and brought the weight of her desire down full upon the world.

And all things shook. And all things knew her will. And all things bent to please her.
The Breaking Way
She knows the cruel games names play
and so she often finds a gentler way.
Yet, for him, these rules she would betray.
All Flames are one Flame
Candles feature predominantly in the narrative. Sometimes, they are obvious, though the tale is hard to read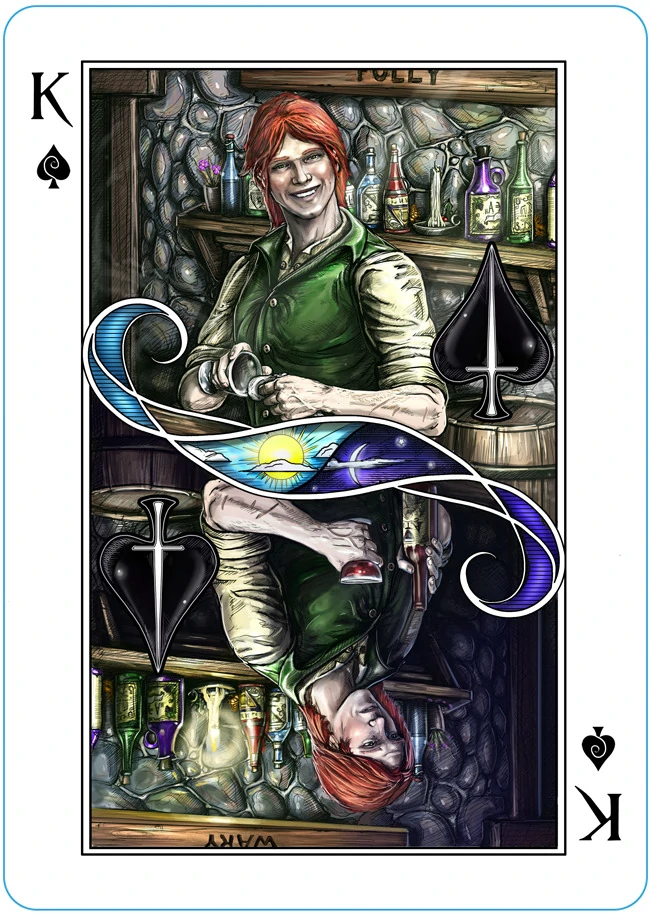 Some hang brightly above us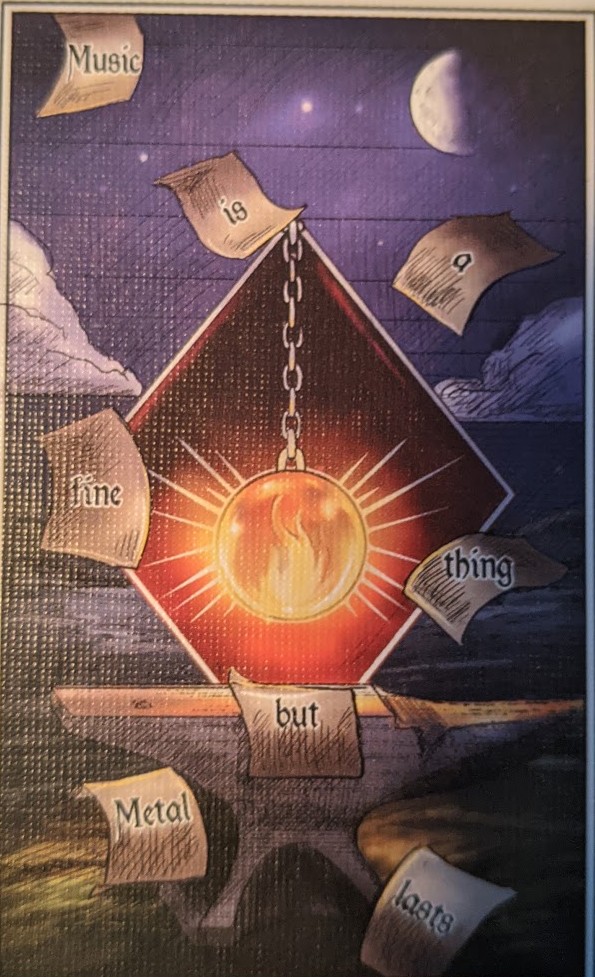 Others there only visible if you squint...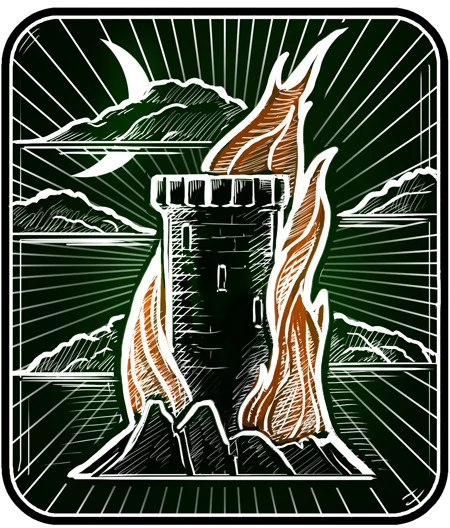 And we learn early on to fear the edges of there flicking flame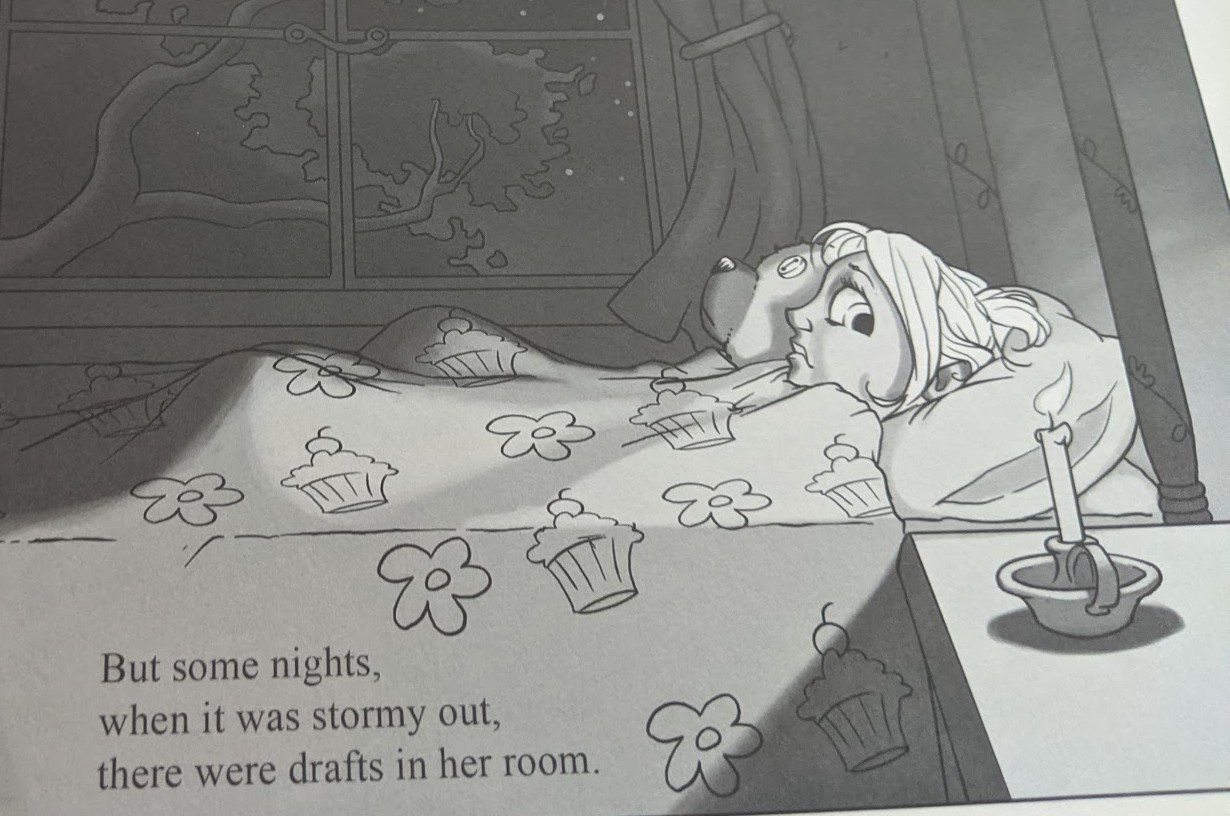 four corners to play a board
Three things a flame to burn
When from darkness came
How can we hope to keep shadows away?
Epilogue
In a box
I see no mention of the candle after he receives it from auri. As far as I can tell kvothe puts the candle in his box in Ankers. TWMF:50:358
I finished loading my travelsack, then packed everything else into the trunk that sat at the foot of my bed. A few worn tools, a broken piece of slate I used for ciphering, a small wooden box with the handful of small treasures Auri had given me....
deceived
In the end, they were all of them deceived
For though they knew the safe and prideful path.
Their hearts new true.
And so as they turned their heads once in wrong,
they turned again to renew:
SROST:10:139
Sulfonium inside a jar of stone. Racks of powders, salts and earths and herbs. Oils and unguents. Fourteen waters. Twicelime. Camphor. All perfect. All true.
Honey and laurel might have been enough if this were a simple poet's candle. But he was no mere poet. She needed something more. A pinch of camphor would have been ideal. Just a pinch, a spark, a hint of something volatile. But she had no camphor, and there was no sense in wishing. So she fetched a daub of perfect pitch instead from Port.
In the interest of fairness I'll explain my idea here, rather then leave it to poetry. Which implies i have some deep understanding here, which i don't. I think both meanings to volatile are relevant here. The first being an inclination to change rabidly, unpredictable, for the worse. Kvothe is certainly that to some degree already. I suspect Auri is deeply conflicted on shaping him more so. The second meaning, that a substance is volatile if changes from liquid to gas at low (say normal) temperature might be an explanation of how the Seven are gas, and how move from place to place. NOTW:16:124
Haliax spread his arms and the shadow surrounding him bloomed like a flower unfolding. Then, each of the others turned with a studied ease and took a step toward Haliax, into the shadow surrounding him. But as their feet came down they slowed, and gently, as if they were made of sand with wind blowing across them, they faded away. Only Cinder looked back, a hint of anger in his nightmare eyes.
Auri was supposed to shape Kvothe to volatile, she declined. A small thing, and yet it might make all the difference.
Other
---
Giving back
If you enjoyed this consider supporting Heifer International, either directly through worldbuilers.
A cause which Rothfuss, the orchestrate of all good and bad times had on Temerant, believes in. And you should also buy all the Cool Worldbuilders KingKiller stuff, which really helps, um, build the world?
Credits
Though the idea is mine and i take full responsible for any undo confusion, I had help in piecing together bits here and there about the story from u/mattytangle and Yamus (on KKC discord). They have some great KKC theories out there you should check out.
Thanks to the r/KingkillerChronicle and r/kkcwhiteboard. I'll be cutting back a lot on the time I spend theory crafting as i need to put my attention back on other matters. But I discovering the book anew and community was a needed adventure.
Left over Questions
Here are some questions I jotted down but didn't try to answer which putting this together:
Is bast somehow the suet that Auri takes with here?
What are the White lace origins?
What/where is Trumble? Is Newaree there?
Is Aunt Sellie "ellie"? Elle on gravestone? A place where no men live?
If the laurel tree is the borrow, what was the fruit? What does it imply?
Is that a hawk in that farmer picture? We should back that claim with part of the story.
Rights
All (most) of the pictures are likely property of Worldbuilders ,I have enjoyed my purchases from them greatly and hope using them this isn't stepping on any toes.
Celtic Holly picture from Anne Stokes
Some scattered ones from Wikipedia
Citations
citations are as follows: Book:Chapter:page
Its likely the pages are inconstant between books.
TWMF: The wise man's fears
NOTW: name of the wind
OH : How old holly came to Be.
TLT : The Lighting Tree
SROST: Slow regard of silent things
SROST Chapters so I can use numbers:
The Far Below of things
what a look entails
beautiful and broken
A quite uncommon pleasant place
hollow
The angry dark
ash and ember
all to her desire
the graceful way to move
the hidden heart of things